Dr. Pascal Mock
Pascal MOCK, MD, MSc, studied medicine at the Faculty of Medicine of the University of Geneva (Switzerland).
After practicing the profession of obstetrician and gynecologist at the University Hospital of Geneva (HUG), he continued his specialization in reproductive medicine in Paris (France) at the Antoine-Béclère hospital leading to a Master in reproductive physiology at the Pierre and Marie Curie University (Paris VI, 1998). Upon returning to Switzerland in 2001, he obtained the FMH certification in reproductive medicine.

Dr. Mock's area of ​​research is embryo implantation. Between 1999 and 2001 he was director of a Swiss national fund for scientific research, working on the biological activity of a new placental molecule from the insulin family (INSL4). He is the author of several high-level scientific publications on infertility and embryo implantation. He also lectured at the University of Geneva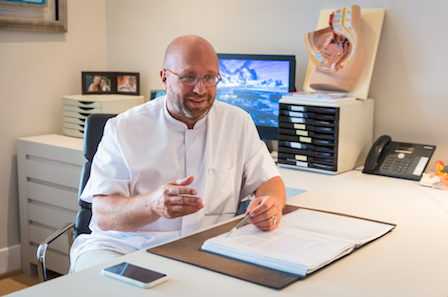 In 2004 with Martin Velasco, he founded ANECOVA, a Swiss biotechnology company, in order to develop his invention, a new culture system in vivo in medically assisted procreation (ART). His collaboration with EPFL was important during this creative period.
In 2009, he assisted the first baby in the world born from in vivo fertilization made possible using this new system at the Grangettes clinic in Geneva.